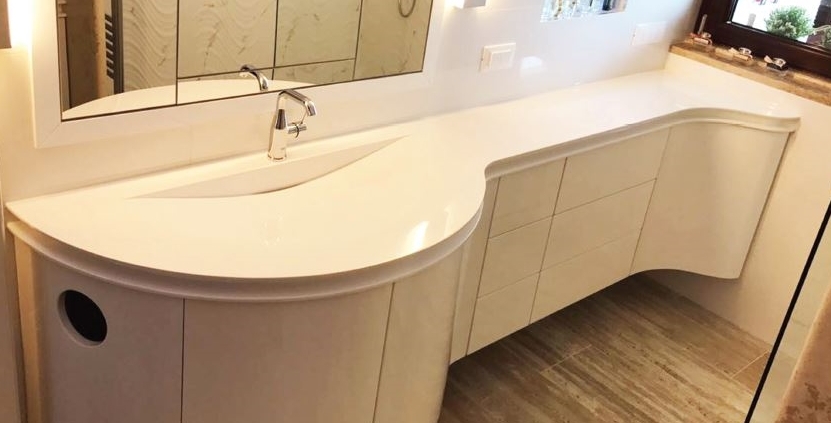 Kerrock
M INTERIJER Company is an authorized kerrock processor in Croatia.
Kerrock is an artificial material created on a plastic mass base that perfectly imitates stone and in the last years it has become very important in the internal design industry. Reasons for it are adaptability, functionality, quality, durability, appearance and especially unlimited possibility of modeling. All of this made it a material of future.
Because of its final quality and appearance, it has become irreplaceable material in manufacturing of:
– working surfaces in kitchens, bathrooms, laboratories and Offices;
– wall and facade boards, window and balcony rubs;
– reception desks and shop counters;
– bars, wrap up surfaces in public places and restaurants;
– pool, salon and wardrobe rubs;
– thermo – shaped bowls and basins;
– small objects and furniture galleries;
– advertising wall graphics.
Characteristics that make kerrock top quality selection:
– agreeable, warm and impermeable material with no taste or smell;
– easy to clean and maintain, surface looks permanently clean;
– remarkable firmness, toughness and chemical resistance;
– thermo – stability to 160 C, self-extinguishable, resistant to atmosphere impact;
– simple to craft, gluing without visible layers
– wide selection of colors (100) in plain, granite and teraco effect
– unlimited liberty in projecting, detail making and combining with other materials (wood, glass, metal…)
In 1997 we were first in Istria Region to start using kerrock and as a part of big projects we used kerrock in about 80 big buildings in Istria among which the most famous are:
– HOTEL FORTUNA Porec
– HOTEL Porec Porec
– HOTEL MAESTRAL Novigrad
– HOTEL HOSTIN Porec
– HOTEL EDEN Rovinj
– HOTEL PARK Rovinj
– HOTEL TAMARIS Rovinj
– MARINA PULA
– MARINA CERVAR Porec
– A/C LANTERNA Porec
– ISTARSKA BANKA Pula
– TURISTICKO NASELJE FUNTANA
– A/C SOLARIS Porec
– GRADSKA KNJIŽNICA Pula
– A/C VALKANELA, Vrsar
– HOTEL PULA, Pula
– MARINA OTOK Cres
– MARINA Novigrad
– MARINA Umag
– INTERSPAR Osijek
– KZC Vodice, Šibenik
– HOTEL ALBATROS Porec
– A/C Polari, Rovinj
– A/C Veštar, Rovinj
– MARINA VERUDA, Pula
– VILA MATERADA, Porec
– HOTEL ISTRA, Crveni otok, Rovinj
– AVENUE MALL, Zagreb
and many others…